U-Lazy-U
Disc Golf Course
Sorry, but the U-Lazy-U course is currently
closed due to maintenance issues.
Introduction
The U-Lazy-U disc golf course is located near Westcliffe, Colorado. It is situated at at an elevation of 9,000' on rolling pasture with stands of ponderosa pine.
The U-Lazy-U is a private course but players are welcome. Please contact me, William Mitchell, at 520-577-0344 (Tucson) or write to

for permission and directions to the course.
The Course
The U-Lazy-U course was laid out in the summer of 2000. The current layout is the first version by a first-time course designer (me). The course was first laid out with a set of medium-distance holes reasonable for an amateur player. A set of long (pro) tees and short (junior) tees were added later but the layout would be substantially different if the course had been designed with pro tees in mind from the start. Comments on good holes, bad holes, and possible changes are welcome.
Tees are marked with a rock pile that is considered to be the front-left corner of the tee box. Think of the boxes as being 1x3 meters. The pro and amateur tee piles include a larger rock bearing the hole number. The tee piles are painted periodically but I've had trouble with paint getting weathered off. Green/red/blue paint is used for the junior/amateur/pro tees. In some cases, trees or fenceposts near tees have a paint mark to aid in tee location. Ideally, all tees have marking flags but cattle, and perhaps elk and deer, too, pull up the flags, perhaps thinking they are edible.
The pins are made of 2x4s with a double-thickness section painted yellow that is the target area. Hitting the target area, top included, counts as holing out. All pins are numbered. When handy, dead limbs have been piled around the bases of the pins to discourage cattle from trampling the targets. Feel free to add to the piles if you pass a downed limb enroute to a pin.
The course is bounded by barbed-wire fence on all sides. A disc landing entirely past the line of the bottom wire is OB. There's typically no water on the course; any water present should be considered as casual (i.e., not OB).
In case you've never played golf at high altitude, note that discs become more stable as the air thins. Flat flyers at sea level can end up turning pretty hard at 9000'. Don't forget to include some understable gear in your bag, and note that some people prefer 150s for high-altitude play.
Course Map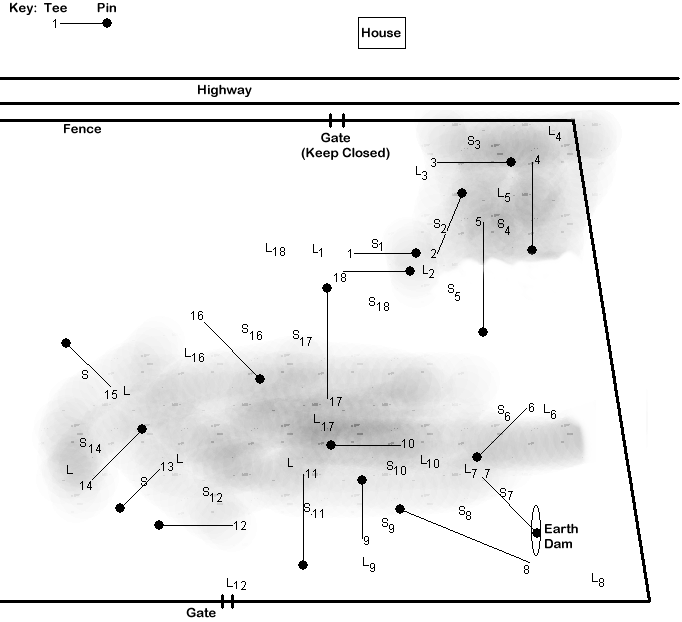 Notes:
The map shows a line from the amateur tee to the pin. The hole number is on the tee end and a circle is at the pin. The short and long positions are indicated by (e.g.) S2 and L10.
The shaded areas indicate trees but the shading should be regarded as very approximate.
The sixteenth tee is perhaps the hardest to find.
This map was laid out using data from an instrument-less pacing of the course, so it's not the best. (A new version based on laser-measured triangulation is in the works...)
MAP ERRATA:
Tee 9 is due west of the #8 pin. (Map shows southwest.)
Tee 18 is northwest, not northeast of the #17 pin.
| | | | | | |
| --- | --- | --- | --- | --- | --- |
| Hole | Junior | Am | Pro | Direction to pin | Directions to amateur tee |
| 1 | 116 | 205 | 343 | To east, under tree | 270' south out from gate, just past road that runs through pasture.. |
| 2 | 132 | 218 | 307 | To north, along, and then into, trees | 70' from #1 pin |
| 3 | 135 | 244 | 327 | To east, roughly along road, then left | 130' from #2 pin. At edge of trees where road enters. Tee extends from tree (on left) to center of road. |
| 4 | 119 | 290 | 396 | South, at far edge of trees, among several trees | 70' from #3 pin |
| 5 | 198 | 363 | 459 | South across meadow, about midway up far side. Wide open. | 185' from #4 pin |
| 6 | 162 | 228 | 254 | To southwest, stand of trees blocks hole | 300' from #5 pin |
| 7 | 175 | 261 | 287 | To southeast, pin is on top of dam | 65' from #6 pin |
| 8 | 158 | 459 | 660 | Diagonally across field towards the west. Pin is under small tree. | To far end of dam, then about 35' to right. |
| 9 | 119 | 191 | 284 | Up hill through alley in trees. Pin sits on rocks at top | 150' from #8 pin |
| 10 | 135 | 228 | 380 | To west, making right turn around trees. | 145' from #9 pin. Lies between two trees. |
| 11 | 175 | 300 | 320 | Downhill to south; pin sits on rocks near bottom. | 100' from #10 pin |
| 12 | 149 | 241 | 495 | Orange tee plays to west, pro tee plays to northwest | 270' from #11 pin. Pro tee is near fence gate. |
| 13 | 99 | 182 | 211 | Tunnel shot to southwest | 185' from #12 pin |
| 14 | 125 | 241 | 300 | Up hill to northwest | 135' from #13 pin |
| 15 | 106 | 201 | 277 | To northwest, sits just past a prospect hole on edge of road | 130' from #14 pin |
| 16 | 135 | 264 | 281 | To southeast, following berm at first | From #15 amateur tee look for a pair of equal sized trees about six feet apart. Go straight between them and continue until just out of trees. Tee lies in trough formed by berm. |
| 17 | 221 | 429 | 512 | To north, pin is wide open in meadow | 265' from #16 pin |
| 18 | 228 | 366 | 607 | To east, pin under trees | 100' from #17 pin |
| | 2687 | 4911 | 6700 | | |
Safety
Players assume full responsibility for risk of injury to themselves and others. Hazards on the course include rattlesnakes, lightning, high wind, falling debris from trees, snags on trees, wildlife, animal burrows/holes, cattle, cattle "pies", barbed and baling wire, poor footing, and ill-thrown discs, to name just a few.
Ponderosa pines are remarkably good at catching rocks being thrown at stuck discs. DO NOT throw rocks at a stuck disc unless you are committed to dislodging any rocks that get lodged in the process of trying to dislodge your disc and/or previously thrown rocks. (In other words, don't leave any rocks up in the trees!)
Experience shows that the NUMBER ONE HAZARD on the course is low-hanging dead limbs on the pine trees--they are very easy to walk into. Pay attention when you're in the trees. My personal bad habit is to make a bad shot, bend down to snatch up my marker, and plow my head into a limb when I straighten up. BE CAREFUL!
The weather can change very quickly--keep an eye on the sky and don't take any chances if there's lightning in the area.
Courtesy
The course lies on the southern portion of my in-laws ranch, which has been their home for over fifty years. Their cattle brand is the U-Lazy-U and that's the source of the course's name. Golfers are currently allowed to play the course without an escort present. It is hoped that players will demonstrate courtesy by carrying out all trash, keeping their language wholesome, and behaving responsibly at all times.
Because fire danger can be high at times there is a simple rule about smoking: NO SMOKING on the course. If you consume beer or other alcoholic beverages while you're playing, please drink responsibly and consider the use of a designated driver.
There are no toilet facilities at the course. Discrete watering is OK but fertilizing is strictly discouraged. Plan ahead.
Park on the shoulder on the south side of the road. Be sure to securely fasten the fence gate behind you.
Stray discs that are found can be left at the front door of the house. An effort will be made to get them back to the owner.